Best way to determine goalie glove sizing is to measure the length of the goalkeeper's hand from tip of the middle finger to the end of the palm. General rule is to round up and add a size. Hand measurement of 7 inches would be a size 8. My hand measures 7.5 inches. 7.5 inches + .5 to round up + 1 = a size 9. Sizing youth goalie gloves is far more difficult. Determining the best glove cut is based on preference and body type.
Goalkeeper Glove Sizing Guide:
This is not an exact science since every goalkeeper's hand is different.
Goalkeeping gloves should be worn slightly larger than hand size. A keeper's finger should not be touching the tip of the glove nor should there be excessive room that makes the glove feel sloppy., Generally 1/4" to 1/2" over the end of your fingertip is optimal or a thumbnail length if you dont have a ruler handy.
Here are some tips to guesstimate more efficiently. If you dont have a local soccer store to go try on a pair then here is are two common ways to determine the appropriate size.
Another option is to measure the circumference of the widest part of the palm
Measure the circumference of the widest part of the palm excluding the thumb. Round up to the next highest inch. Then add 1" to the measurement to determine your glove size.
Be sure to measure both hands and order the bigger size. When sizing a keeper's gloves, the fingers should be no less than a ¼ inch to an ideal ½ inch from the top of the glove.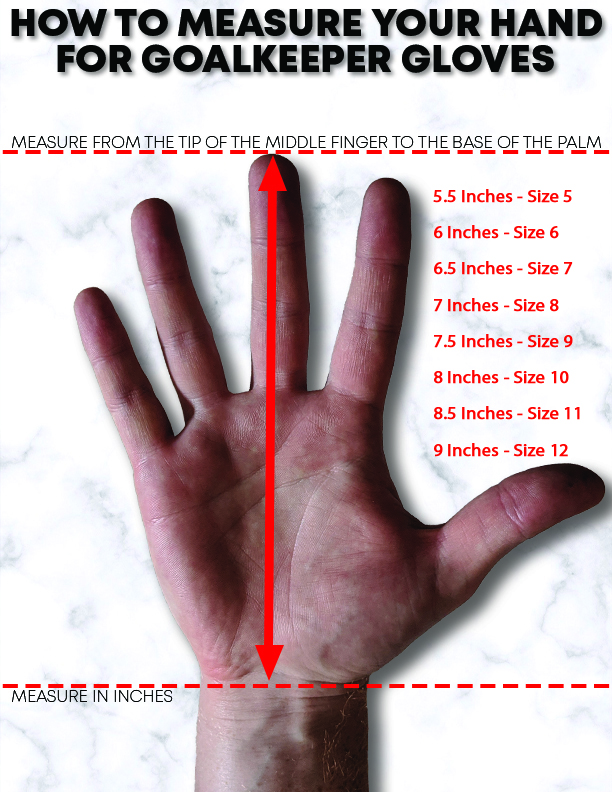 Youth Goalie Glove Sizing Help:
There are slight variations in size between manufacturers; between inexpensive practice gloves and more expensive game gloves; gloves with youth sizes only; and adult size ranges with youth size that span from size 5 - 11. A youth size 7 and an adult size 7 are very different sizes. To make matters more difficult a size 6 in Elite Sport will fit more like a Reusch junior size 7. The glove experts at Keeperstop are here to help with a video to help size youth goalie gloves.
Glove Sizes:
JR Size 4 or 5 - Small Keeper wearing YS goalkeeper gear. Age is 7 to 9 years old. Height maybe 4 feet 6 inches to 4 feet 8 inches for a size 5.
JR Size 6 or 7 - Medium to larger youth keeper. Age 10 - 12. Height 4'10"(size 6) - 5'0" (size 7).
Size 7 (Adult) - Small adult or large youth keeper. Height 5'2" to 5'4"
Size 8 - Small to medium adult keeper. Height 5'4" - 5'7"
Size 9 - Medium adult keeper. Height 5'8" - 5'10"
Size 10 - Medium to larger adult keeper. 5'10" to 6'1"
Size 11 - Large keeper. 6'2" ish
Size 12 - Large keeper. 6'4" ish or a keeper with meat hooks for hands (big hands).

Goalkeeper Jersey Sizing and General Measurements:
For best fit, measure shirt that fits you well. With arms relaxed at your sides, measure around your chest at the armpits, over the widest part of your chest and shoulder blades, keeping the tape parallel to the floor. Compare with measurement listed in size chart.
FOR ANY APPAREL PURCHASE A GOOD GUIDE IS WHAT A KEEPER WEARS OFF THE FIELD FOR SIZING WILL APPLY FOR FOR GOALKEEPER APPAREL. UNLESS IT SAYS WOMEN OR NARROW CUT MOST GOALKEEPER APPAREL IS SIZED FOR MALES.
For shorts and pants measurements:
Waist - Measure around your natural waistline. If between sizes, order next larger size.
Hips - Measure around the fullest part of the body at the top of the legs.
General Goalkeeper Equipment Sizes:
Soccer Jerseys - Mens
Small 35 - 37 inches
Medium 38 - 40 inches
Large 41 - 43 inches
Extra Large 44 - 46 inches
2 Extra Large 47 - 49 inches

Soccer Jerseys - Womens
Small 30 - 32 inches around bust
Medium 34 - 35 inches around bust
Large 36 - 38 inches around bust
X-Large 40 - 42 inches around bust

Soccer Jerseys - Youth
Small Youth Size 8
Medium Youth Size 10
Large Youth Size 14
X-Large Youth Size 16

Soccer Shorts and Pants - Mens
Small 29 - 31 inches in waist
Medium 32 - 34 inches in waist
Large 35 - 37 inches in waist
X-Large 38 - 40 inches in waist
XX-Large 41 - 43 inches in waist

Soccer Shorts and Pants - Womens
Small 24" waist; 34" hip
Medium 28" waist; 37" hip
Large 31" waist; 40" hip
X-Large 34" waist; 43" hip
Please email or call with questions: 860 904 7679 or [email protected]. Have the following information ready: height,weight, age, and current apparel size of the keeper.
Your goalkeeper glove and equipment experts at keeperstop.com are happy to answer any questions. Call us in the USA for goalkeeper glove sizing or review questions.